The Challenge
MIABC is continuously searching for ways to provide value to and make meaningful connections with its members. After it was discovered that users and members were having difficulties navigating the site and finding the information they were looking for they determined it was time for a website redesign project. They were also looking to enhance the existing content across their site and implement a staff intranet (view this news post about reasons to implement an intranet) to improve internal workflows. We provided content services that included auditing, reviewing, and re-writing their web content - this involved not only content writing but creating engaging visuals and page layouts. 
In addition, as a website and intranet post-launch initiative, MIABC wanted to implement new and innovative tools that would provide added value for their members on the website, while creating efficiencies for members that are consistently using their services. They also wanted a new and creative way to engage with their members during the challenges of COVID-19.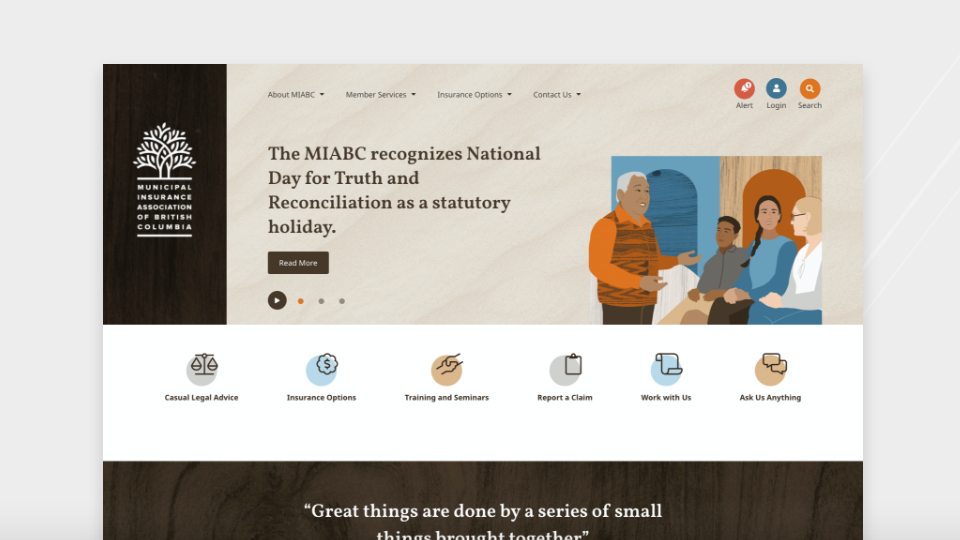 The Solution
We worked with MIABC to evaluate the different aspects of their brand. Using this branding foundation, we created custom illustrations, textures, and a digital style guide to organize the different components of their existing brand guide (view our news post on the importance of a brand guide). These design components were used to initially build the new website - and then were carried over to the creation of their intranet. This allowed us to create a custom and cohesive design for both channels that accurately represented MIABC's identity - resulting in brand consistency and ease of navigation for users. 
In addition, Upanup provided the following content services: 
Content audit - the content audit allowed us to gain a complete understanding of each page within the website, evaluating where pages could be streamlined or removed.
Content review - to ensure the public-facing content was accurate, flowed well, and followed their content guidelines. 
Content re-write - as needed we would re-write content so it will be easy for MIABC's users to understand. 
Sitemap creation - the new sitemap ensured users can easily find the information they are looking for. 
Image/graphic design - engaging visuals were created to enhance the user experience. 
Content guide - we drafted a content guide so ensure consistency across the site. 
Page layout - we built various page layouts to ensure their content was accessible and was built with a user-first approach. 
MIABC also holds an annual internal Conference (see MIABC events here) and determined it would be a wonderful opportunity to connect with the valued members of their organization while supporting a worthwhile initiative. As such, we were also involved in creating their video that was centred around the theme of "What is Resiliency?". This video involved a montage of interviews, graphics, animation and music, and was showcased at the event. 
For tips about branding, content, new trends, and more sign up for our quarterly newsletter. 
MIABC
MIABC
The Results
MIABC's new website, miabc.org, was successfully launched and has tiered access, ensuring sensitive information is hidden from the public and is only accessible by members. New aspects of the website such as featured quick links and refreshed content has garnered MIABC positive feedback from member organizations regarding its look and improved navigation.  
Subsequent to the launch of their new website, MIABC's intranet project was completed. The design elements used for this internal communication channel ensured it seamlessly complemented the public site, providing staff with access to valuable organizational information wherever they may be. It is also an excellent tool for keeping their team connected and organized.
The "What is Resiliency?" video included custom animations and graphics that were consistent with MIABC's branding. We included personalized video messages from MIABC's internal team members who spoke to what resiliency meant to them. The video is uplifting and provides an excellent means of engaging and connecting with their audiences. It was displayed at their annual conference, you can watch the video below. 

As part of a continuous improvement effort for MIABC's online presence, we also created a unique interactive liability tool for their website. This tool streamlines the liability coverage process, in turn creating efficiencies for their members and their internal staff. 
"We are proud to promote our website and I am very impressed with the work both Upanup and the MIABC team have accomplished to get us here. It has exceeded my expectations. You have been absolutely fantastic to work with and we could not have asked for a better website design, development and implementation team. We are excited to continue to build this site with Upanup."