The Challenge
The Township of King is committed to providing an excellent user experience to its residents. The Township's previous municipal website and King Township Public Library website were in need of improved consistency, navigation, and content management. The Township needed an innovative, forward-thinking company to redesign both websites in a way that was intuitive to their various audiences and would help them accomplish tasks through the websites. The Township also required a back-end system that would create efficiencies for its team and would be easy to manage and update.
In addition to the Township and library website, the Township had other smaller websites for the Cold Creek Conservation Area and King Heritage & Cultural Centre that required a redesign and creation of a whole new website. We ensured these websites shared common branding elements with the Township to clearly identify that they were related.
© Township of King
The Solution
We leveraged our teams' expertise in the Drupal CMS to create custom designs for the Township's multiple websites. The new Township website, king.ca, features: 
A modern design
Easy navigation
Refreshed content
Improved functionality
The homepage is set up as a hub for news, upcoming events, emergency alerts, and community stories to engage audiences. It was important for community members to be able to search for articles and services, so we created a comprehensive and robust search function that enhances the user experience. Our content specialists helped audit the sites' content on the previously existing website, collected client input and user feedback, refined the sitemap to reflect best practices, and created a website that was focused on the users' experience.
To address the needs of the library website we created a design that shares some similar design elements to the Township website. Their new site is very visual and features many tools and features to enhance their users' experience. The library serves people of all ages so to set their visitors up for success we created a fun promotional video (see video below) to highlight some of the new features of the site and make navigation easy for users that were familiar with the old site. The new website includes a search function that can toggle between the website and catalogues making searching very easy and efficient. Additionally, the site features a children's section with quick links to common pages, featured books and funny gifs for children to enjoy. 
"Upanup was great to work with, they listened to our ideas and wants for the new site and made it look great while being detailed and easy to use. They were prompt in responding to any questions or concerns we had as well. Our patrons have been happy with the new site, content is easy to find and the site is easy to maintain and update with fresh content whenever we wish."
To best serve the Township's residents and create engaging content that promotes the many offerings we provided them with an out-of-the-box solution created by Upanup for an online community guide. This guide supports the Township's goals of being a digital-first community and includes the following features:
It acts as its own microsite that shares the Township's branding elements to create consistency for users.
It can be connected to the Township's other sites as needed to create internal efficiencies.
The Township's staff can quickly and easily update to reflect changes and additions to programs, community events, and much more. This ensures all users have up-to-date information when deciding how to spend their time in the Township of King.
We built the smaller websites as two microsites (kingheritageandculture.ca and coldcreek.ca) so they are connected to the Township website and community guide. We created one design for both sites that were then customized with their individual branding. We are very proud to work with the Township and continue our relationship with them through projects such as this that create added value for their users.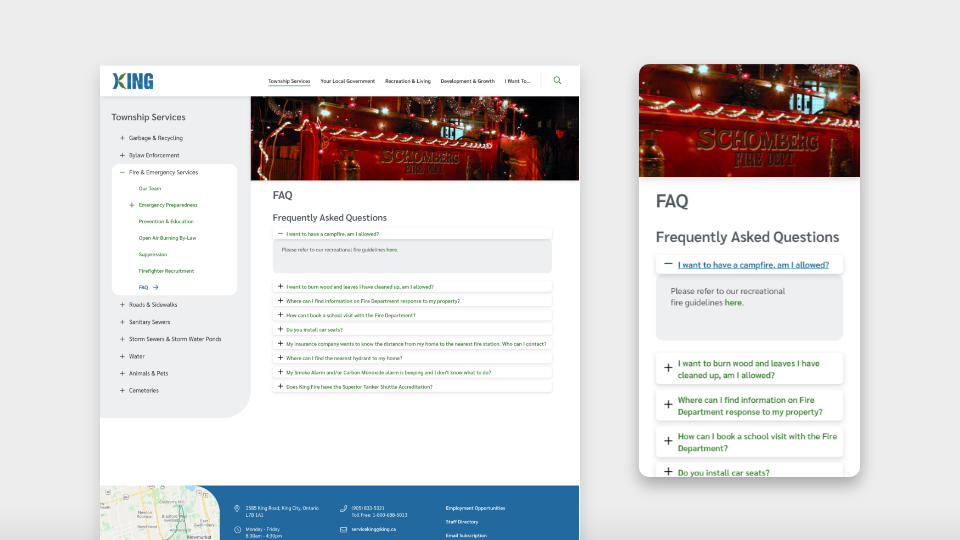 The Results
The new Township and library websites are user-centric and relevant to their target audiences (residents, businesses, and visitors). The Township website features a unique homepage that acts as a central source of information for commonly used links. To encourage users to perform as many self-service options online as possible we integrated their website with their chosen CRM system and Forms Portal that is connected to their new payment processor making the process simple for users and manageable for their internal team. 
The new websites have been well received by many of their internal and public users. The Township's team often only has to update content once instead of across all of their sites. The promotional video for the library site helped users navigate the new site and included Jorgen, their mascot, to visually engage their younger audiences. The Township is committed to continuously improving its online content and we are very happy to be a part of this journey with them. 
To be notified of new case studies and gain valuable industry insights, subscribe to our quarterly newsletter below.