The Challenge
To better serve everyone in the community, Collingwood sought to replace their outdated municipal website with a more accessible, user-friendly communication tool. The province of Ontario is leading the way nationally in enforcing website accessibility standards. By 2021, all public sector organizations in the province will need to provide fully accessible web content that meets the international Web Content Accessibility Guidelines (WCAG). The Town took this opportunity as a chance to rethink their website so that it is easier for their staff to update content, and for residents, businesses, and visitors to get the information they want quickly and easily.
Please see the before (left) and after (right) images below.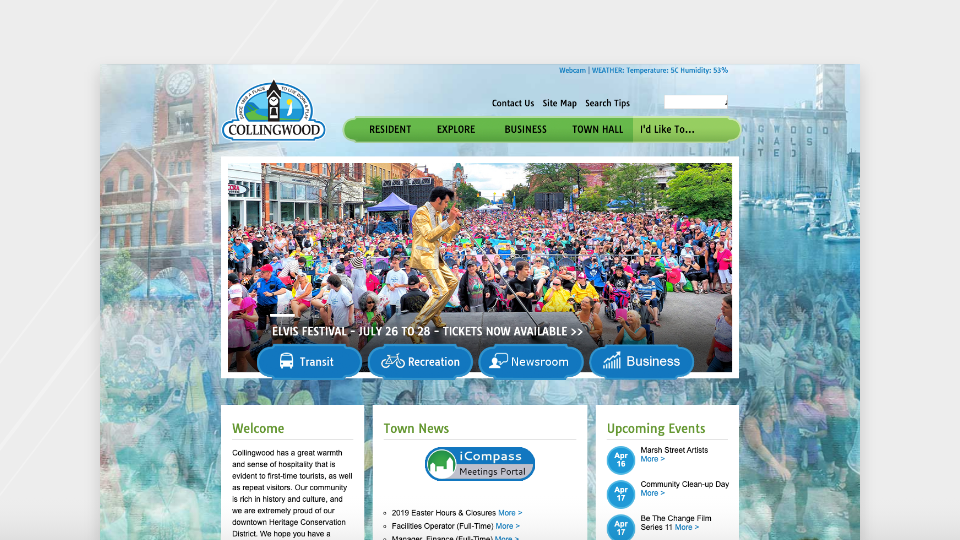 The Solution
Creating a great user experience meant transforming the original website's complex and sometimes repetitive site map. Town staff were passionate and determined throughout the process of reconfiguring and distilling content. We collaborated with their team to create a modern website design with an intuitive, user-focused site architecture that highlights the information users are most keen to see.

Accessibility factors into every aspect of the website build. Design standards like strong colour contrast ensure that the website is as legible as possible. Development best practices ensure that the website can be used for people in all kinds of circumstances; for instance, the whole website can be navigated by keyboard, using the Tab and arrow keys, for desktop users that can't or prefer not to use a mouse. Sign up for our quarterly newsletter below to stay informed about web accessibility trends and more! 
The Results
The Town's new website is accessible and engaging, showcasing local events and making it easy for anyone to find information and services. To help audiences navigate the website, the homepage features helpful tools like quicklinks and an I want to... menu, where residents can apply for everything from a dog tag to a marriage licence. We're thrilled that the Town's new municipal website won gold in two international competitions this year, the dotCOMM Awards and the AVA Awards. Take a minute to explore the Town's municipal web solution.
If you're curious about your website's accessibility, check out these tips to make your website content more accessible and connect with our team of experts to review your website.