The Challenge
After years of using the software program CLASS, NVRC switched to PerfectMind, a new membership management software with more flexibility and options for recreational centres. This software had to be integrated in a way that would allow it to properly communicate and data share with their existing public website. The goal was to enhance the usability and efficiency of their website which in turn would provide their users with a better overall experience. This new integration would also allow for easier internal tracking and management. It was imperative that this integration had a seamless transition so it would not disrupt their current website; therefore, allowing their members to continue to use the programs and classes.
The Solution
To achieve NVRC's goal of integrating PerfectMind software, thorough research was conducted by our development team to make calculated decisions about the methodology that would be used for the integration. We used our expertise to customize the Drupal platform by creating a Drupal module that communicates with the PerfectMind API. This allows for data to be shared between the website and software, including but not limited to program registration, in depth insights to user activity and improved searchability of programs. Additionally, our development team implemented a server infrastructure to optimize performance and programmatically ported all the necessary content to the new software so no information was lost in the process.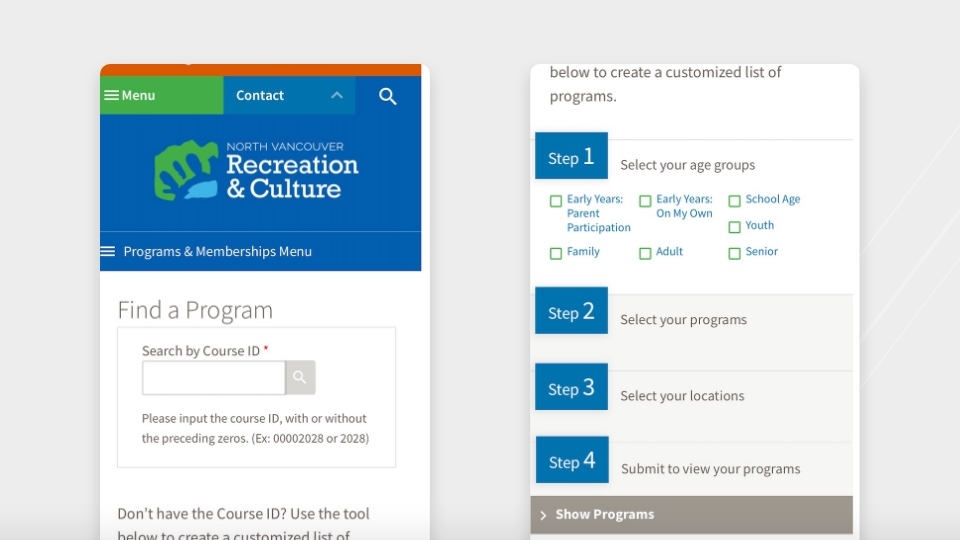 The Results
We were able to make a seamless transition from their previous software to PerfectMind without affecting the 100,000+ user accounts associated with North Vancouver Recreation & Culture. The new and unique way we created the integration that allows PerfectMind to push and pull data back and forth with NVRC's website provides a user-focused program interface. Users have the ability to use a search bar or filters for the Find a Program feature which will populate programs that are perfect for them. We also implemented the "My Program Guide" feature that allows users to input their information and set their program preferences, the guide will then populate all the available programs that matched allowing for the user to simply register through PerfectMind.
 
Our skilled team has the abilities to create software integrations for a wide range of websites. If you are interested in learning more about Drupal and PerfectMind, contact us.