The Challenge
Our challenge was to create five engaging and accessible websites within a two-month timeframe to coincide with the AODA's compliance deadline - while, simultaneously, showcasing the branding unique to each of the five brands. (Although the deadline has passed, if you are still working towards compliance view the ways that you can prepare your site to meet AODA compliance requirements.) FortisOntario customers rely on these websites to act as a resource and provide up-to-date information. As such, we had to ensure that the information on each site was easy to find while creating an enjoyable experience for their users. Accessibility was also a large focus throughout this project, so it was essential that we viewed each phase of the project through an accessibility lens to ensure that the websites not only met the minimum legal requirements - but exceeded them as well. If you're not sure what web accessibility is, check out our accessibility news post.
The Solution
This was a project where we really had to put our processes to the test and work as efficiently as possible to meet the desired timeline. The main parent site (FortisOntario) and the four distribution sites were created on a multi-site platform that created efficiencies for both the client and our internal team.
As another nod to efficiency, we also recommended implementing one of our most popular Drupal website templates to be used across all five websites. (To learn more about our template approach view our case study for the West Shore Parks & Recreation project.) Using a design template allowed our team to streamline processes while still ensuring that each website featured unique branding and content that was most relevant to each brand's target audience. In addition, every website we build meets WCAG 2.1 AA standards, and with a tried and tested template you are guaranteed to get a website design that is accessible and that users enjoy using.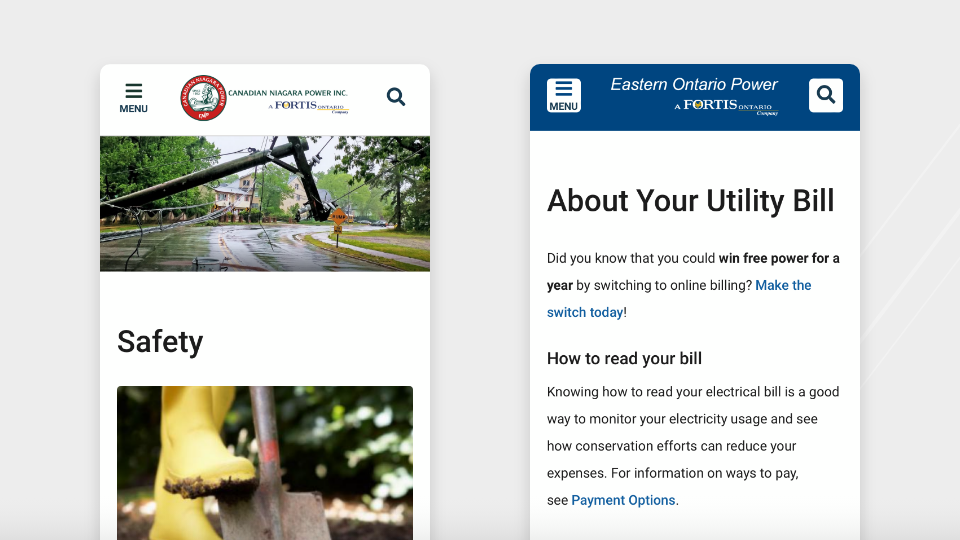 The Results
The following websites were launched by the AODA deadline and have been well received by their communities:
While each of the sites incorporate the same template, content and branding have been customized to each unique distribution company. And as an added touch of personalization - and to help make information quick to find - some of the sites feature quick links on the homepage that can be changed depending on the user type that is selected.
Upanup was fortunate to work with a great team at FortisOntario, and we continue to work together on additional initiatives, while providing ongoing website support services to ensure that their sites remain secure, accessible, and meet their users' needs.