The Challenge
From the beginning of the project, our communications with the City of Pitt Meadows' internal stakeholders was honest and open, and helped us understand some of their unique goals for the site. The City was committed to improving citizen engagement and overall transparency, and wanted to ensure that users could access commonly requested information with ease.
Our resulting project strategy prioritized user-focused content, including a site architecture that was easily navigable and pages that provide key information in a format that citizens can digest. Moving away from a department-based structure would be key as we created a more intuitive menu based on feedback from users.
The Solution
To kick off the project, our team conducted a number of consultative meetings with subject matter experts to gather input quickly and early in the process. To clearly identify the community's values for their new website we also facilitated and advised on opportunities for engagement including an online survey and an in-person focus group. These engagement methods provided insight into the content that is most relevant to them (e.g. dynamic news and updates on a mobile-friendly and searchable website) and the features that would help them complete key tasks most effectively.
Our content strategy and designs were informed by the themed findings gained through these exercises, ensuring that the final designs for the updated website addresses user needs and delivers content to them in a way that is meaningful and enjoyable.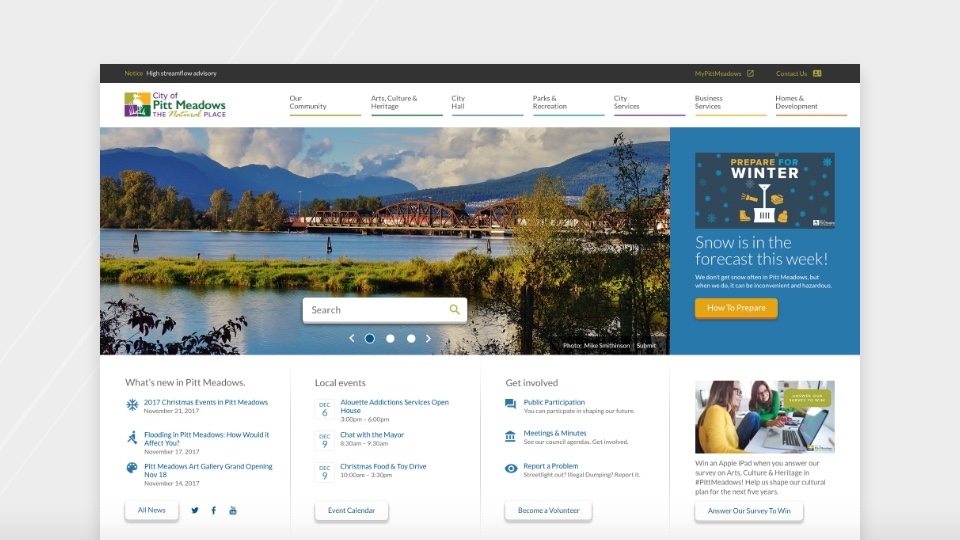 The Results
The resulting website fosters increased connection with members of the community through new features, including a community calendar and an interactive heritage locations map that make it easier for citizens to learn more about the City' cultural offerings, and an improved method for adding credits to photos that encourages local residents to submit images of their own for the website.
It was also important to the City that they continue to adjust their site based on the shifting needs and interests of their users. To give citizens a way to provide feedback, we designed and implemented a feature allowing them to answer the question "Was this page useful?". Since the site's launch, the feedback option has helped City staff gather valuable information directly from users.