Estimated reading time
1 minute
The City of Quesnel is ready for tourism to ramp up again with a new website (tourismquesnel.com) and its unique "Plan My Trip" feature. In 2019 - prior to the COVID-19 Pandemic - the City had over 12,000 tourists (up 21% from the previous year) visit the Quesnel Visitor Centre (1). However, in the following year, the tourism industry in Canada was hit hard by the Pandemic, and tourism spending nearly halved compared to the previous year (3).  With vaccination rates now increasing, creating a safer environment for travel, the City of Quesnel is looking forward to welcoming back visitors.
The City of Quesnel (area population approx. 23,000) is located in the central interior of British Columbia and is home to beautiful mountain biking and hiking trails, delicious restaurants, lakes, a ski hill and much more! Upanup was very excited to work with the City to create an innovative and unique website.  Through a close partnership and strong understanding of the City and what it has to offer, we were able to bring ideas such as the "Plan My Trip" tool to life - enabling visitors to plan every detail of their trip to Quesnel.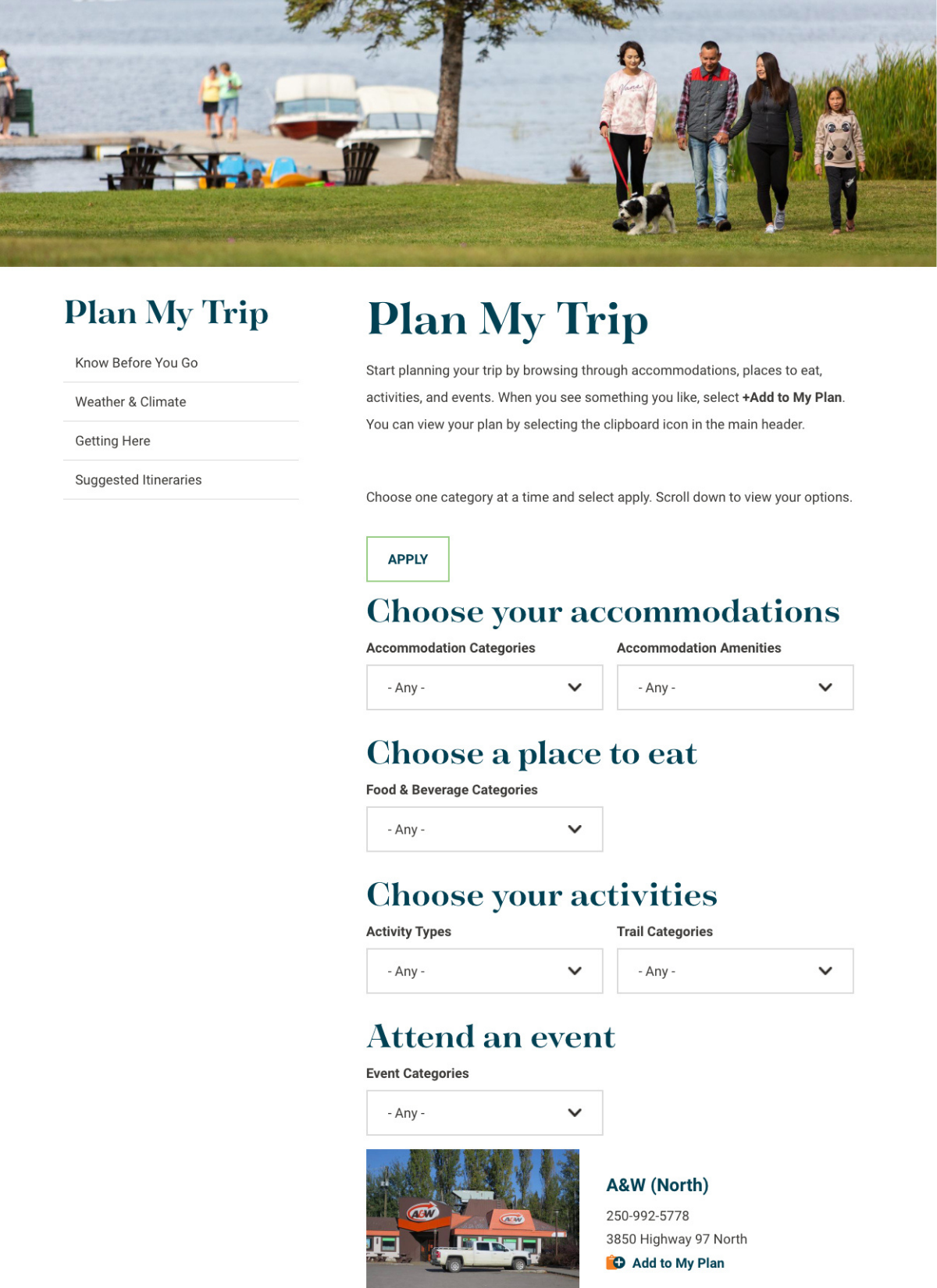 The new website has already seen a large increase in traffic compared to the old site. There has been a 440% increase in the number of monthly website sessions and these sessions are lasting 186% longer than pre-launch. Users are spending more time on the website and viewing more pages per session. 
"We were thrilled to continue our work with the City of Quesnel. It's exciting to work with clients that are forward-thinking and collaborative in bringing their visions to life. This new tourism website has unique user-focused tools that we expect will soon be requested by many other municipalities."
The new website has many unique features to provide users with an optimal experience: 
Suggested itineraries - provides users options based on the season of their visit, duration of their trip, and type of trip they are looking to have. These user inputs would then populate a suggested itinerary with times and links to each activity. 
Homepage video - a City-curated YouTube video has been directly embedded into the homepage to give visitors a taste of what Quesnel has to offer. 
Plan & Host My Events - similar to "Plan My Trip," users can answer various questions and receive recommendations for venues that meet their needs. 
Submit My Event - local residents and businesses can submit their events directly on the website to then be approved by City staff before being posted to the site for public viewing.  
Featured Local Recommendations - a homepage feature, where visitors can get the inside scoop on local favourites to complete their Quesnel experience. 
In addition, the new website is fully responsive so visitors can find valuable information and plan their next trip on any device while they're on the go. It is also built to meet WCAG 2.1 Level AA accessibility standards, and Upanup has provided additional accessibility recommendations so people of all abilities can use and enjoy the site. Some examples within the area of accessible design include proper colour contrast, hover triggers, proper headings and labels, and consistent navigation.
Visit the Upanup website for more information.
https://www2.gov.bc.ca/gov/content/employment-business/economic-development/bc-ideas-exchange/success-stories/supporting-business-entrepreneurship/quesnel-covid-19-response